Growing up in the western North Carolina mountains of Asheville, I assumed grits were a common breakfast food for everyone. I'm not sure when the realization hit me that grits were mostly a regional staple. Now, of course, I know that grits are much more than a simple southern dish. Grits are an emblem of one's southernness. They are an enigma to our northern neighbors. They are polenta to those across the pond. They are the porridge of storybook fame. They are a punchline in the movies. They are hated as much as they are loved. My education on grits has only continued since we began running Sweet Biscuit Inn.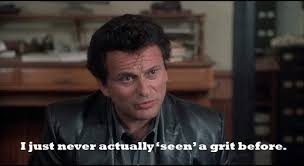 Grits? Yes, please!
When John and I started working on menu items for the inn, we put grits near the top of the list. We wanted to serve regional foods, and we both love grits. Our only problem was that we never really made grits for ourselves. They were more of a restaurant brunch item we ordered and savored on weekends. So, we set off in search of recipes to test.
Since imitation is the highest form of flattery, we decided to see what the other innkeepers were cooking up. Our first stop was Malaprop's Book Store in downtown Asheville, NC. We knew the cool independent bookstore would carry the Asheville Bed & Breakfast Association cookbook Morning in the Mountains. While we were at the bookstore, John happened upon another regionally relevant cookbook, Deep Run Roots, by Vivian Howard. Chef Howard is such a great story teller that John found himself engrossed in her treatise on the demise of grits in the south with the advent of instant grits.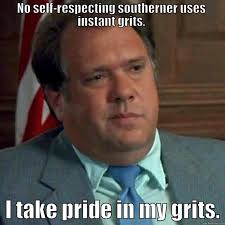 That's when John began developing his method and recipe for the grits we serve at  Sweet Biscuit Inn. We were confident that even the most picky of the "What's a grit?" crowd would succumb to the southern delight like Sam's friend in Dr. Seuss's Green Eggs & Ham.
SAY! I LIKE GREEN EGGS AND HAM 

GRITS

!
I DO! I LIKE THEM, SAM-I-AM!
AND I WOULD EAT THEM IN A BOAT.
AND I WOULD EAT THEM WITH A GOAT...
AND I WILL EAT THEM, IN THE RAIN.
AND IN THE DARK. AND ON A TRAIN.
AND IN A CAR. AND IN A TREE.
THEY ARE SO GOOD, SO GOOD, YOU SEE!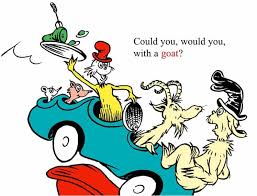 Grits v. Potatoes
We started alternating between grits and potatoes as a side on our main course plates, only to find that 1 out of 4 bowls of carefully-crafted, slow-cooked, perfectly-seasoned, stone ground grits was coming back completely untouched. Another 1 out of 4 came back with one polite bite missing. We conducted a very scientific (wink, wink) poll on Instagram asking people to choose between grits and breakfast potatoes. Not surprisingly, potatoes won. John decided the grits just needed to be served with more enthusiasm to get people over their bias against the grittiness of the grits. He's on a one-man mission to convert potato lovers to grits lovers. His elaborate, dramatic, fanfare delivery often goes something like this:  "These are our slow, slow simmered, creamy rich and delicious, black pepper and parmesan grits, cooked with love for hours last night and this morning!"
Does Presentation Affect Taste?
Our official unofficial results:
Those who already love grits get really excited and say they love them even more.
Those who say they liked them as a kid but not adult, decide they do like them at least a little after all.
Those who are indifferent about grits or have never tried them give them a second chance, or at least politely take a few bites.
Those who say they hate them… well, they still hate them. At least we tried!
The best part is the fun we have interacting with our guests, and that is what being an innkeeper is all about. If you have a recipe for grits that you think can convert the biggest grits-haters of the world, please send it to us. In the meantime, here's John's recipe. Don't forget to add the love!
---
Creamy Black Pepper Parmesan Grits
Ingredients:
(6-8 side servings)
Stone-ground grits, yellow or white – 1 cup (John likes House Autry yellow or white grits.)
Whole Milk – 3 cups
Water – 1 cup
Butter – 4 Tbsp
Salt – 2 tsp
Black Pepper – 1 tsp
Shredded Parmesan Cheese – 1/3 cup
Directions:
In a double boiler, combine milk, water, and stone-ground grits
Stir together, and bring to a simmer while skimming off the floaters
Continue stirring and skimming until most of the floaters are gone
Simmer until only slightly liquid, then season with the butter, salt, and pepper.
Cool and refrigerate overnight
In the morning, return the grits to a double boiler along with 1/2 to 1 cup of boiling water to thin out the grits
Reheat until grits have absorbed most of the liquid
Remove from heat
Add the parmesan cheese, stir until melted, and enjoy!
---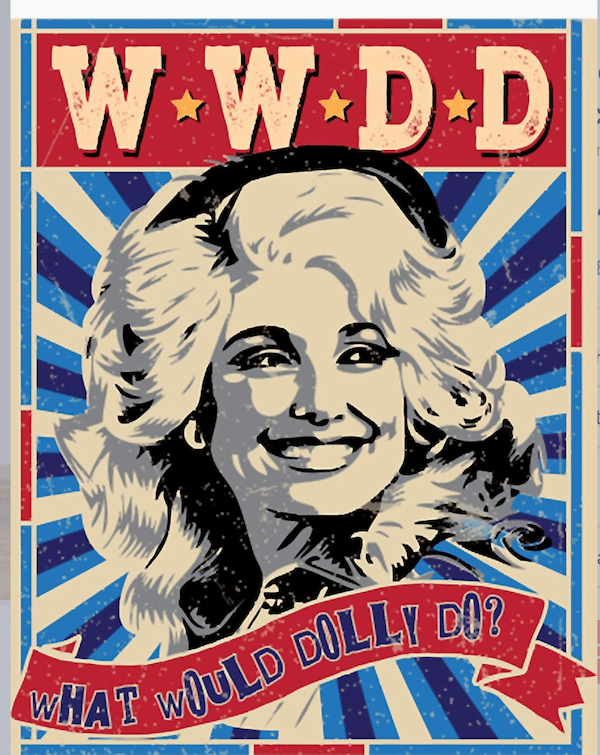 If Dolly loves them, they can't be bad!
I'll bring my grits when I travel, because I get so hungry on the road.
– Dolly Parton