At the beginning of April 2020, just as we were shutting down due to the Corona Virus quarantine, we announced our biscuit recipe contest for two free nights at Sweet Biscuit Inn. We wanted something fun and positive to do at a time when we had no guests to give us a sense of purpose.
We're so happy that many previous Sweet Biscuit Inn visitors and social media followers played along. We heard fun stories about past visits to the inn, and some sent photos to match. Many welcomed us into our new role (January 2020) as innkeepers and wished us luck. We're so grateful for the all the connections we made during April in spite of the shut down and for the recipes that we enjoyed baking throughout the month. We look forward to getting back to the business of sharing our home and the wonderful city of Asheville with our friends and guests, contest winners and all. Thanks for the biscuit love and the positive vibes!
Susan Shah & John Meyer    |     Innkeepers, Sweet Biscuit Inn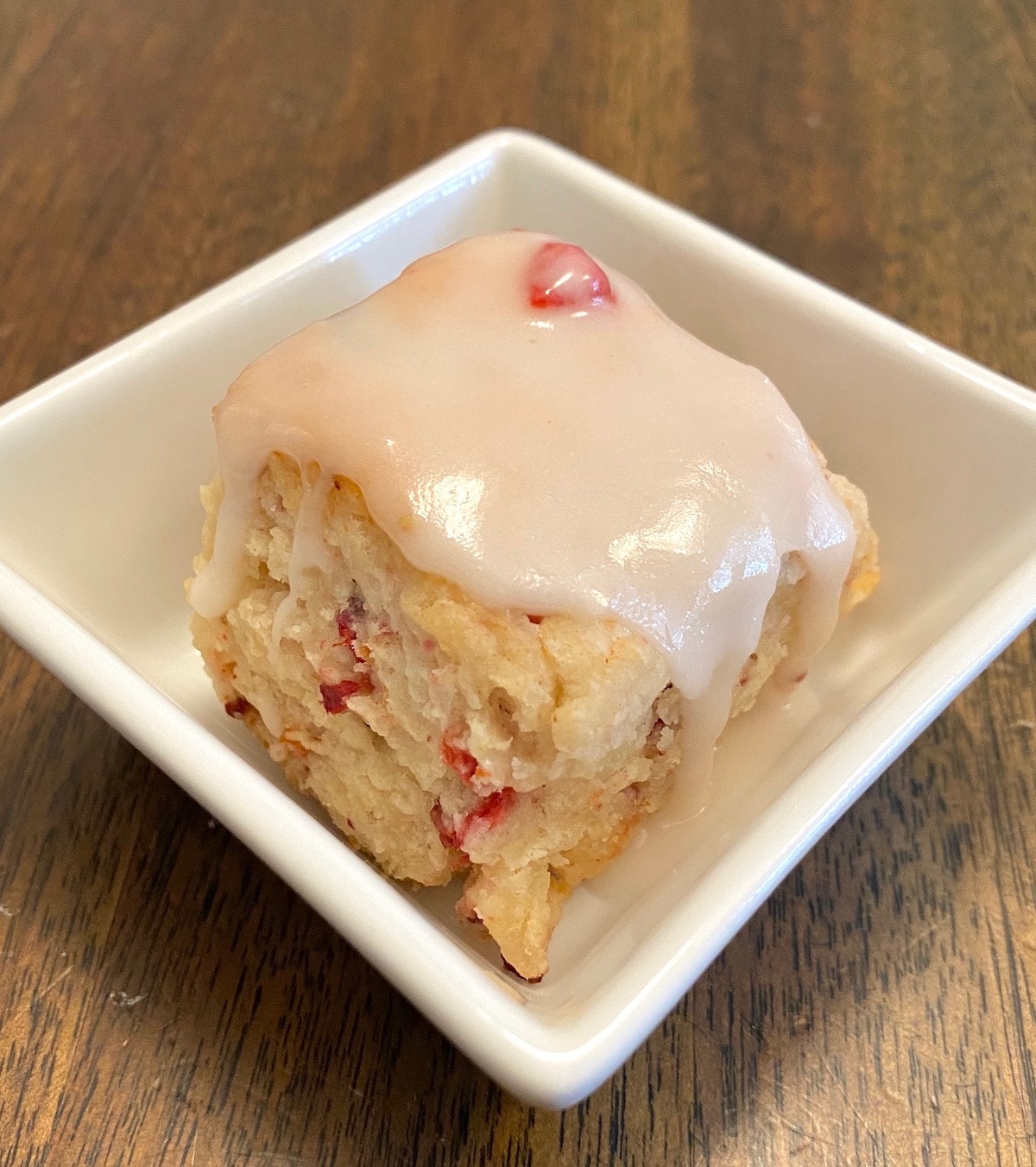 The Runners Up
---
Best and Booziest Brunch Biscuit
Taylor's Mimosa Biscuits sent by Chris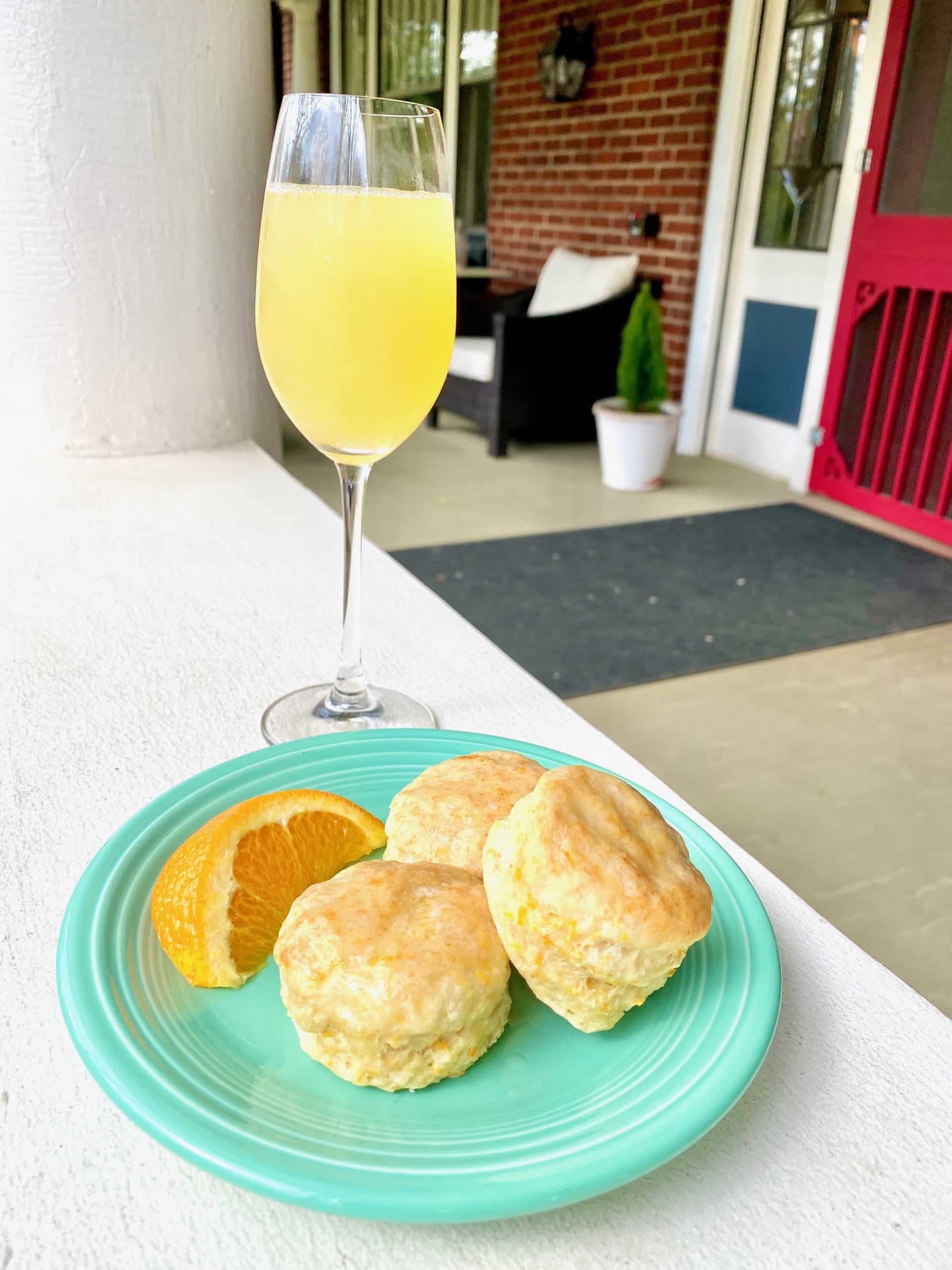 We love this biscuit! It's easy to make, bakes up beautifully and gives us an excuse to finish off the bottle of bubbles with our brunch, as if we needed one. It's vegan, too. This was my daughter's favorite biscuit – she stuffed it with cream cheese for extra flavor.
Most Surprising Recipe
Crazy Easy 7-Up Biscuits sent by Connie
https://ohsweetbasil.com/crazy-easy-7-up-biscuits-recipe/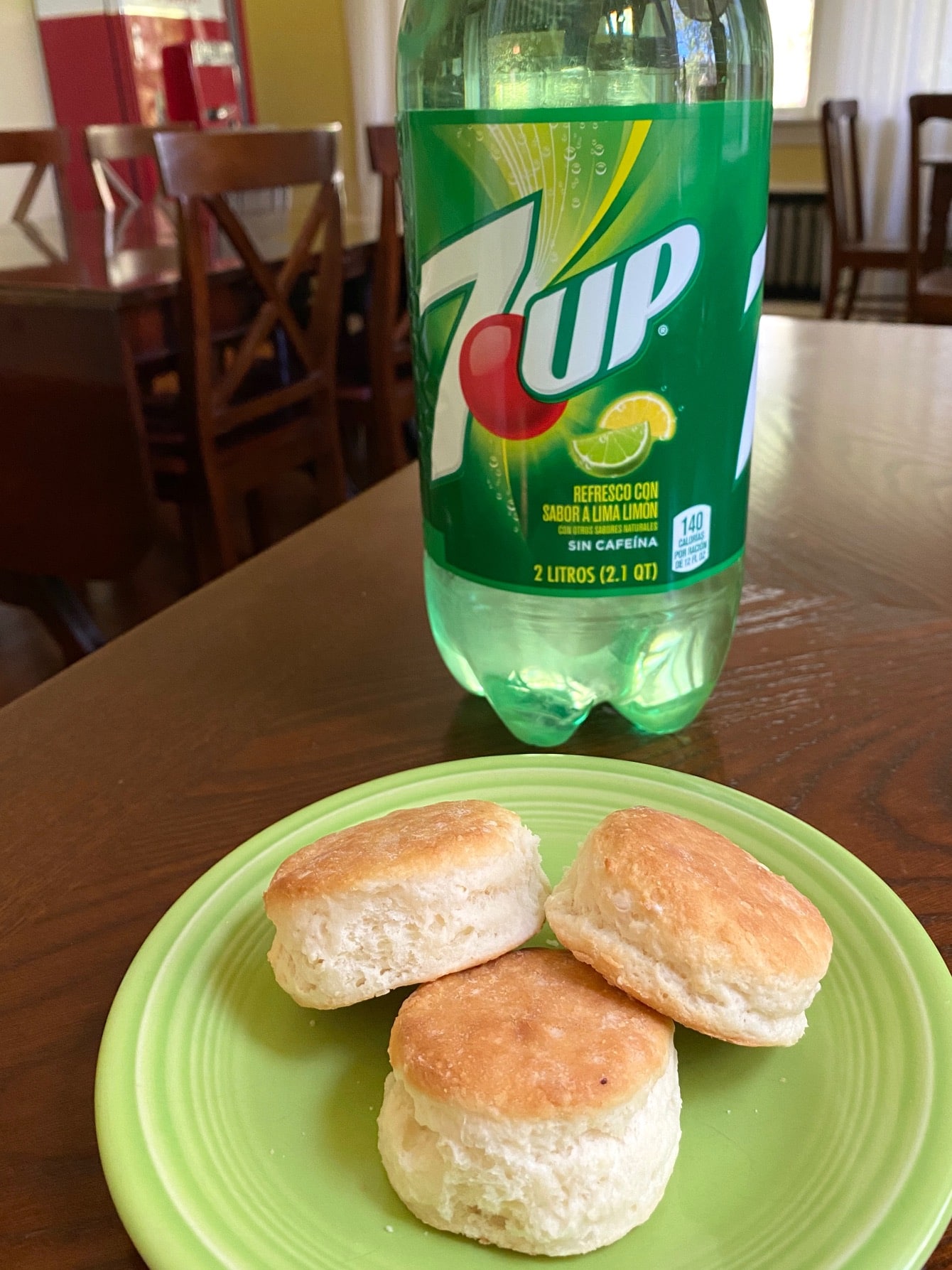 This Uncola biscuit was ridiculously easy and turned out pretty and tasty every time. Yes, we made it a few times. The ratio of the ease of making this 4-ingredient biscuit to the tastiness was spot on. Someone suggested we call it the Wake and Bake Biscuit because it's just that crazy easy.
Everybody's Grandma Award
Nana's Angel Biscuits sent by Emily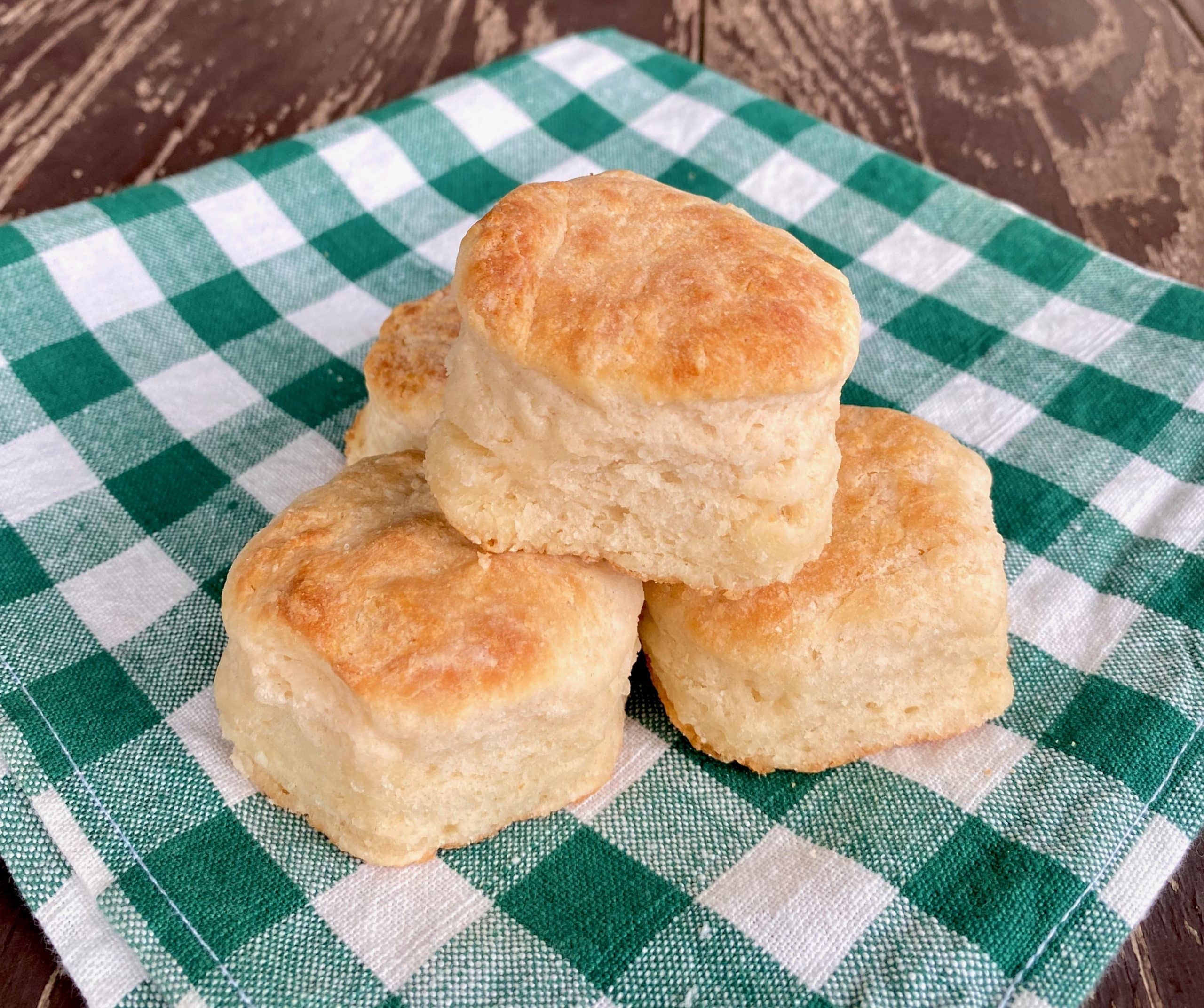 Classic biscuit meets yeast roll in this family recipe baked in a cast iron skillet. We loved the photo of Nana's handwritten recipe—a treasured family tradition. My Southern grandmother also made angel biscuits, so these gave me a wonderful feeling of nostalgia. We've read a few different explanations for the name–they are airy, they rise, they look like angel wings when you split them open. All true!
Always Thyme for a Biscuit
Orange Thyme Biscuits by Laura
Light, fluffy and bursting with orange flavor is how we'd describe these biscuits. This intriguing recipe includes orange zest, orange flavoring and orange juice for a robust orange flavor. We like the hint of thyme that complements the orange. Laura's directions for rolling out the dough and cutting it into desired shapes had us shopping online for an orange-shaped cookie cutter. We can think of lots of other fun things to add to, stuff with, and top off these biscuits. We'd love to hear your suggestions!
We Heard it Through the Grapevine
Cinnamon Raisin Biscuits by Katie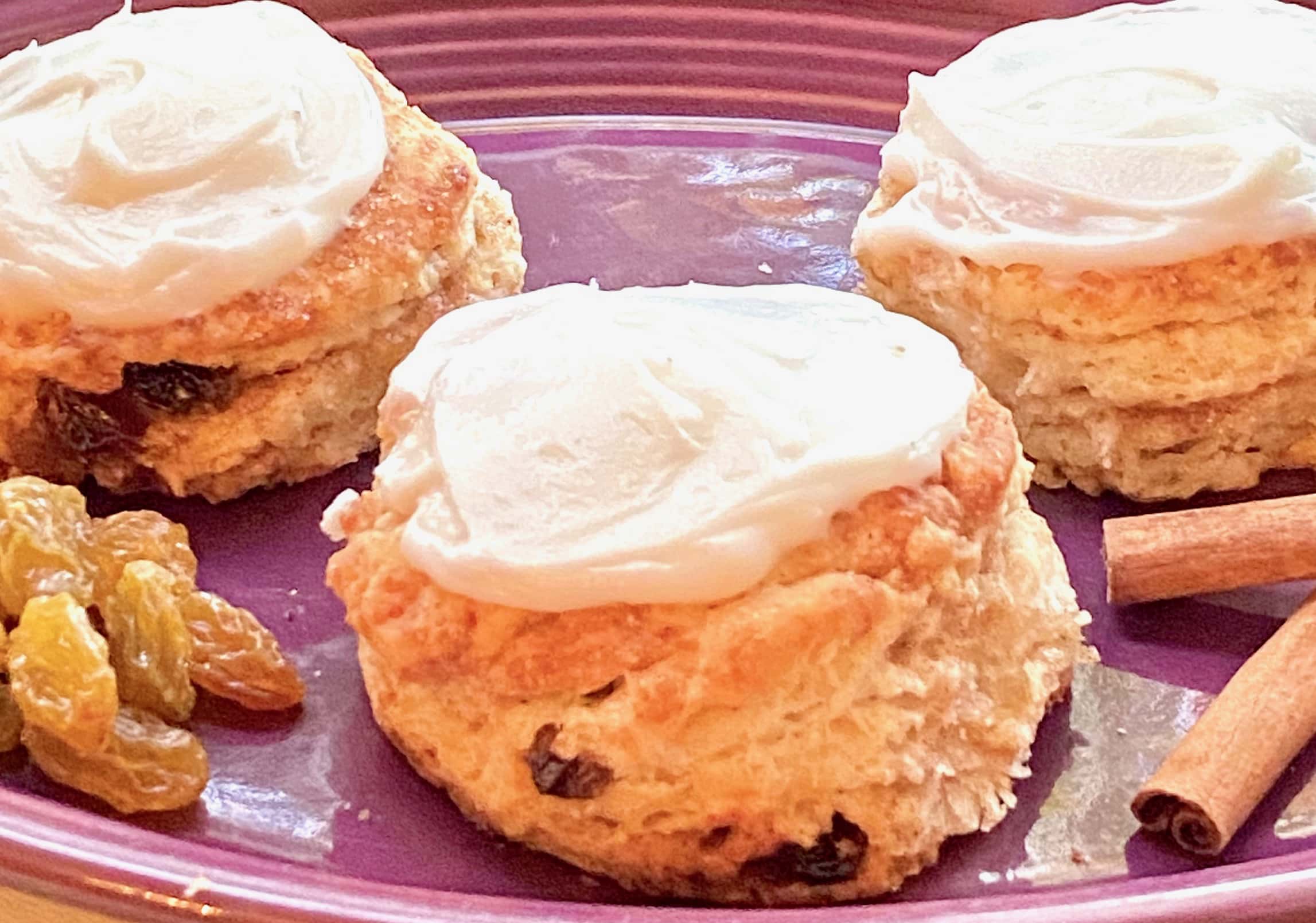 A biscuit with cinnamon, raisins, vanilla and three kinds of sugar can't be anything but scrumptious. These biscuits are marbled with equal parts of all the yummy stuff in every bite. The recipe calls for a bit of work, but it's well worth the effort. Warm with melty icing is our preferred way to enjoy these biscuits.
The Honorable Mentions
---
Fewest Ingredients Award
Cream Biscuits by Becky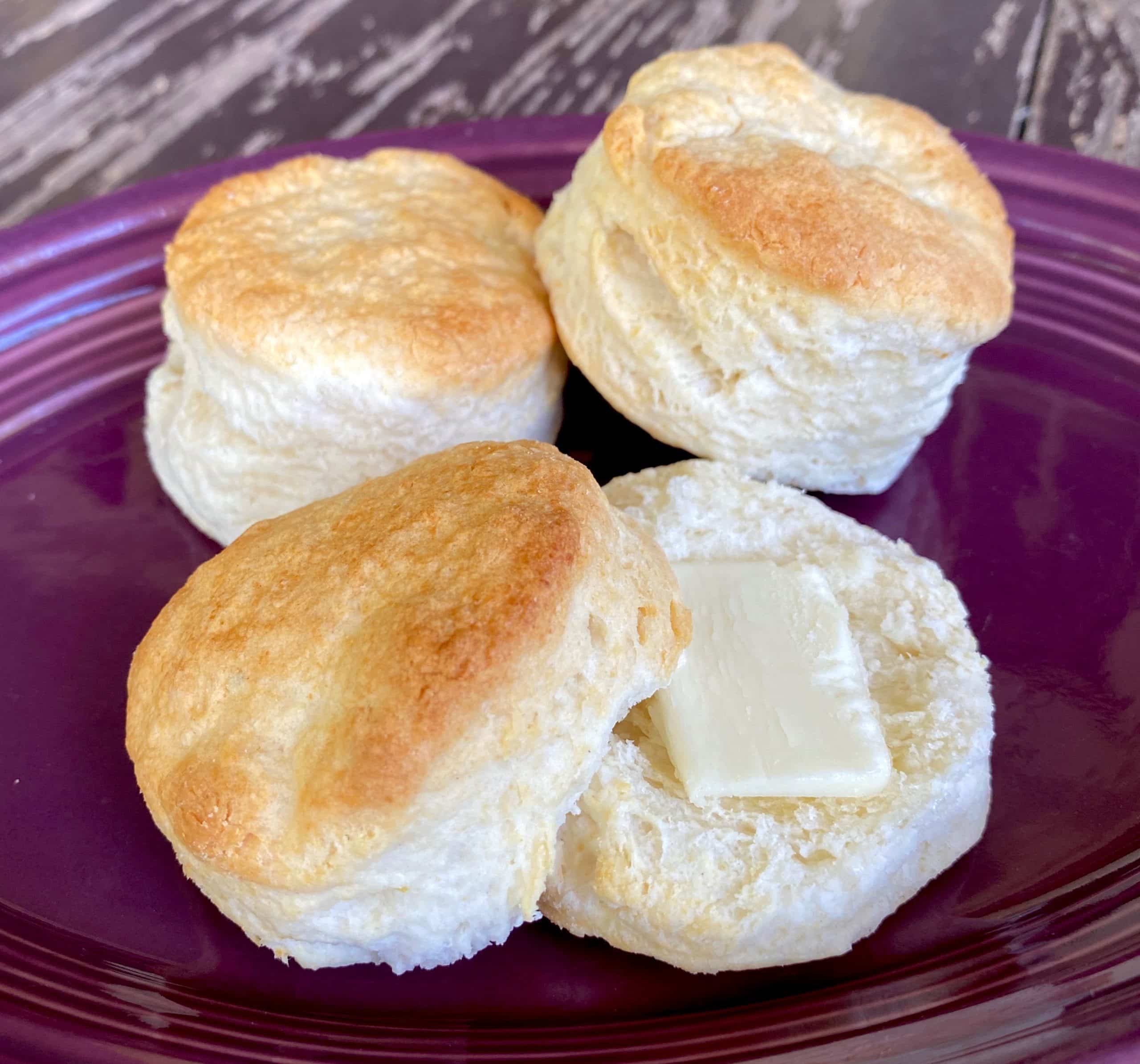 This 3-ingredient biscuit (self-rising flour, cream and butter) is pretty great. Baked in high heat, these biscuits rise like champs. The outside is crispy and the inside moist and light. They split apart so perfectly that we had no choice but to top each half with melty butter. They were even better the next day when we topped them with a fried egg and tomato gravy.
Most Fun to Read
Vicki's Savory Gluten-Free Buttermilk Biscuits
We think this biscuit chef must be a writer. Not only did she put lots of thought and time into developing the recipe, she made it personal and fun to read. She suggested local, farm-fresh buttermilk and thanked her friend for giving her the homemade baking powder recipe that she included. We especially like her suggestion (and her word) to "schmooze" the last bits of dough scraps together for the cook's treat, which we call the ugly tester biscuits. The biscuits are great, and the options for making them gluten-free are well thought out. Also, we plan to steal her phrase about the biscuits rising without restraint. All biscuits should be free!
Prettiest Little Drop Biscuits
Cheddar Garlic Biscuits sent by Kristi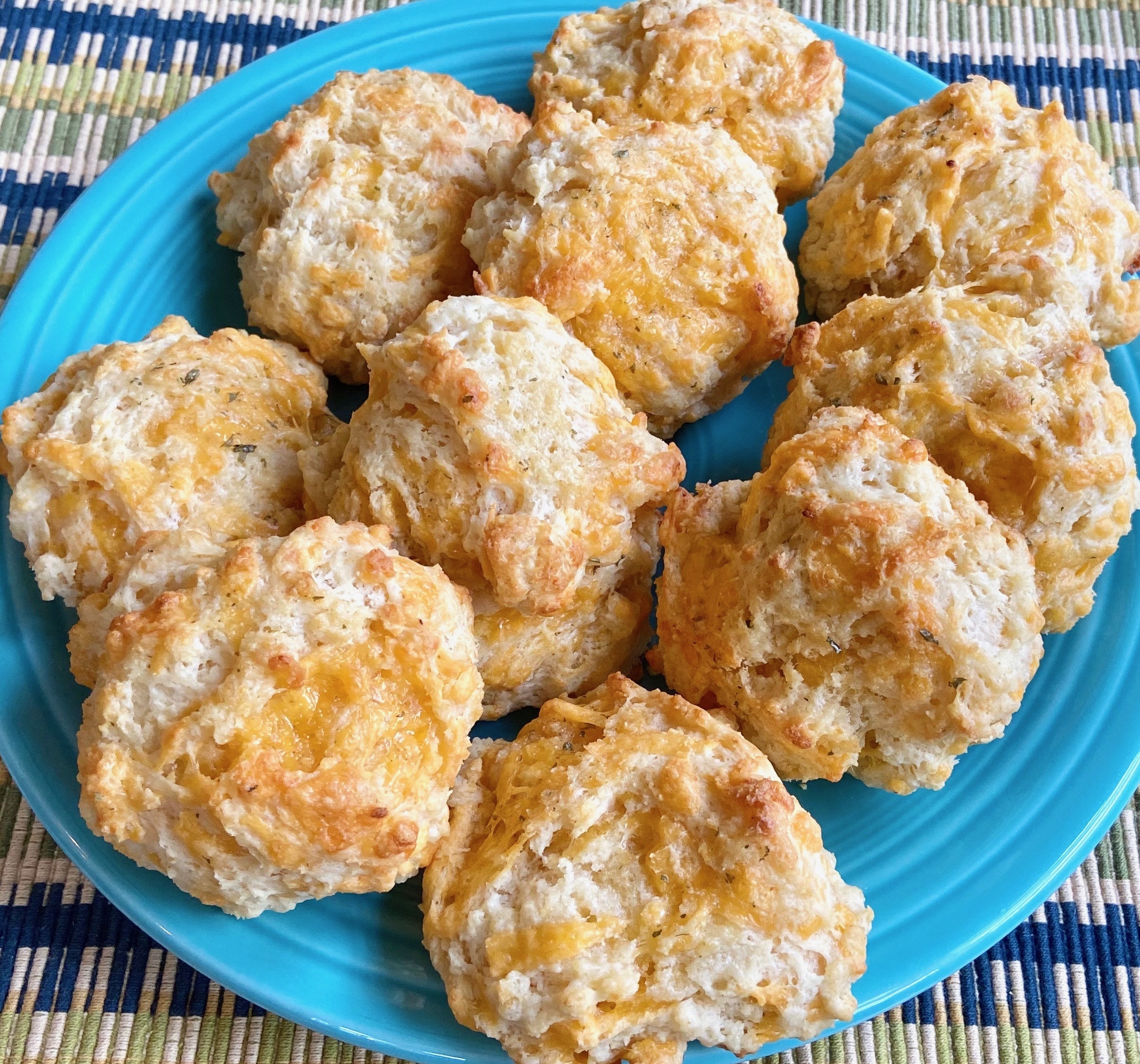 Just looking at the picture of the final product here makes me crave one of these biscuits. The savory sharp cheddar and cayenne make a delicious combo in the dough. These biscuits are also topped with a butter, parsley, garlic mix that gives them crunchy brown peaks. Drop biscuits can be pretty, too!
Best Copycat Recipe
Glazed Blueberry Biscuits sent by Charis
https://saygraceblog.com/glazed-blueberry-biscuits-recipe/
We're not too proud to admit it. A Bo-Berry biscuit from Bojangles is one of our guilty pleasures. This knock-off recipe is just as tasty and lets you control the ingredients. If you're like us, you'll add extra glaze.
Duh, Delicious Award
Foster's Herb Biscuits sent by Meghan
https://www.fostersmarket.com/fosters-herb-biscuits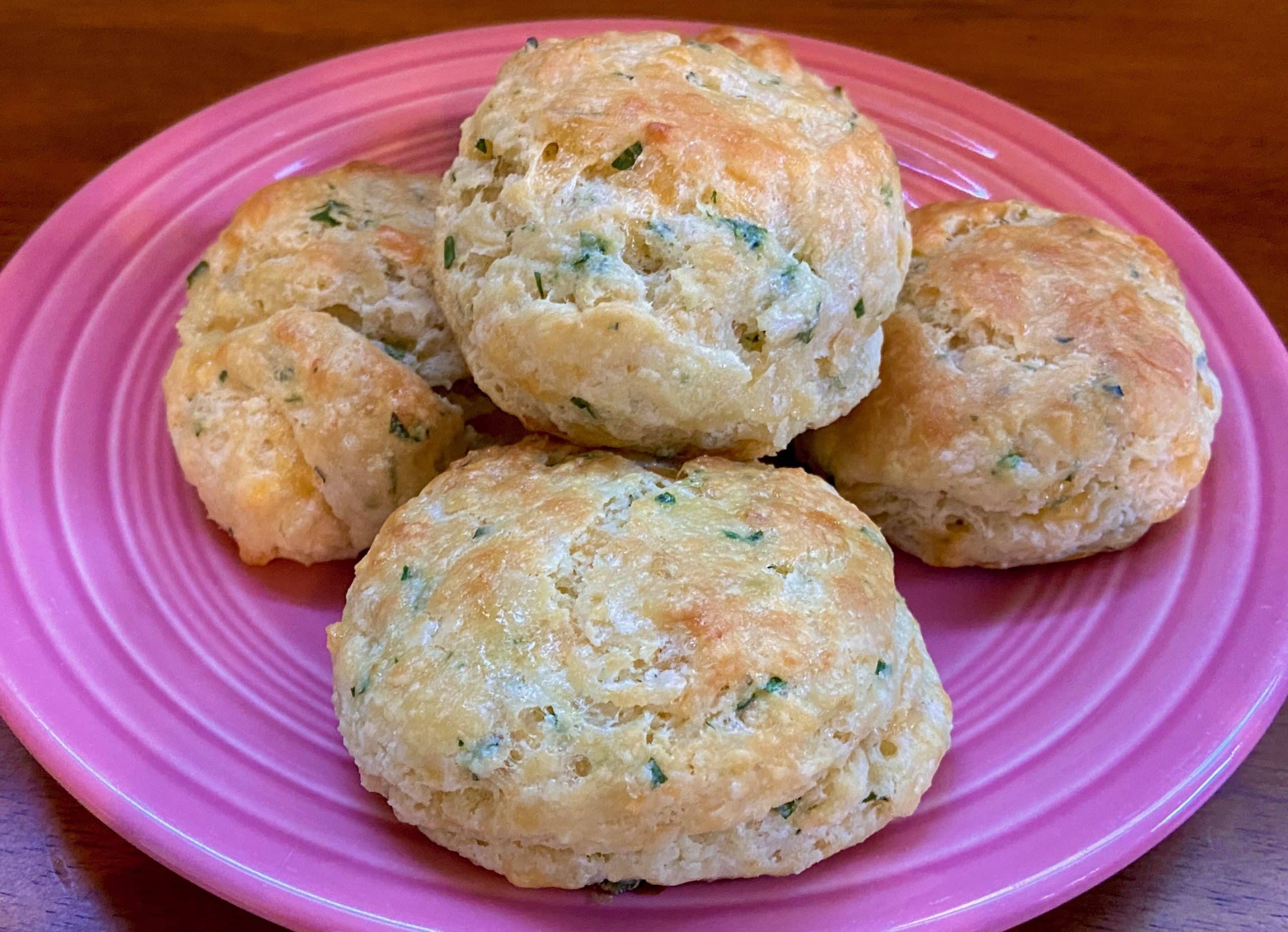 This herbalicious biscuit has an especially nice texture. We like the option to switch up the herbs and add more or less to taste. You can't go wrong with this recipe. We wouldn't expect anything less from Foster's Market in Durham, NC.
College Student Special
Easy Cheesy Mini Biscuits by Pam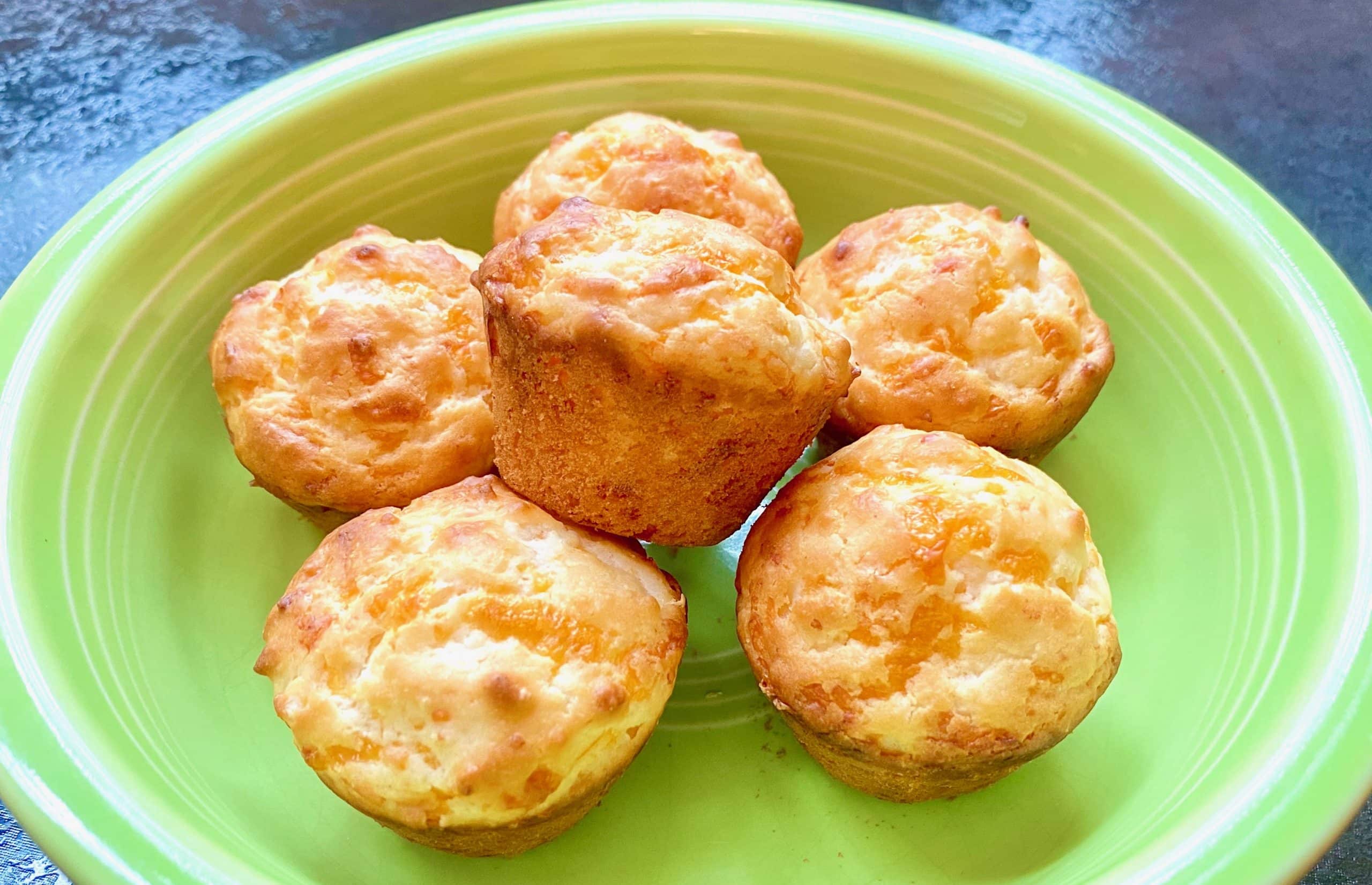 Very easy, indeed! The ingredients are all mixed together and dropped into a mini muffin tin to bake. We stuffed them with savory veggie bacon that contrasted with the vanilla and sugar ingredients to create a very interesting flavor combination. My daughter is taking this recipe back to college with her.
Dietary Restrictions? No Problem!
Paleo Honey Biscuits sent by Candice
https://www.plantoeat.com/recipes/4800311
These biscuits are not only very healthy, they are delicious and satisfying whether or not you're adhering to a paleo diet. They check a lot of nutritional boxes as they are also gluten-free, dairy-free, and meet the specific carbohydrate diet guidelines. They turned out quite hearty and intriguingly yet lightly sweet with honey, coconut oil, coconut flour and almond flour. We drizzled them with extra honey since we had it out anyway!
Best of the Classics
Sweet Potato Biscuits by Abigail
This recipe calls for full fat buttermilk, which is what we prefer but hard to find. If you can't find it, you can make your own! The touch of cinnamon added a nice flavor without being too overpowering. These sweet potato biscuits are perfectly easy and always delicious. We enjoyed topping them with turbinado sugar and stuffing them with spicy veggie sausage. Is that weird?
Bon Appetit's Best Buttermilk Biscuit sent by Amanda
https://www.bonappetit.com/recipe/bas-best-buttermilk-biscuits
This recipe is a gold standard with exceptionally detailed directions that cover all the biscuit-making rules. We like that the biscuit dough in this recipe is made into a rectangle and cut into square biscuits leaving less scrap dough to deal with. Square is different and fun, too!
Classic Buttermilk Biscuits by Monica
We were surprised by the use of bread flour in this otherwise classic recipe. We'd heard that bread flour can make the biscuits denser, but the technique used in the preparation made for deliciously layered biscuits.
The Winner!
---
Strawberry Iced Biscuits by Alexis
Bursting with contrasting flavors of lemony icing and sweet strawberries, these moist buttermilk biscuits had our taste buds dancing with delight. The dried strawberries didn't add extra liquid to the mix and stayed slightly chewy without being overpoweringly sweet. Using lemon juice instead of milk or cream for the glaze was the real icing on the biscuit for us!
---
If you'd like a recipe that doesn't have a link, reach out to us directly and we'll be more than happy to send it to you.
Feel free to keep sending us your favorite biscuit recipes. We're always looking for great biscuit ideas. After all, biscuit is in our name!